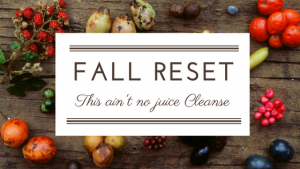 You had an amazing summer, didn't you? But now you're feeling like you need a little reset. Let's take a concise and actionable approach to creating change that optimizes our detox pathways.
The webinars will begin on Monday October 3rd and run weekly for four consecutive weeks. Dr. Marnie Luck ND, will be facilitating the webinars and will have a number of guest speakers. The topics of discussion will be:
Week 1 – Monday, October 3rd from 8:00pm-9:00pm
Detox Overview with Dr. Marnie Luck, ND
Explanation of environmental burden and ways to reduce it. Detailed overview of how our body naturally detoxes and ways to support those processes.
Week 2 – Tuesday, October 11th from 8:00pm-9:00pmNutrition and Dietary Modifications with Dr. Marnie Luck, ND & Claire LeGresley, Registered Holistic Nutritionist
Simple and effective ways to modify diet to support digestion and elimination. Overview of foods that help the body detox.
Week 3 – Monday, October 17th from 8:00pm-9:00pm
Exercise for Detox- when, types and how often with Dr. Marnie Luck, ND & Brittney Adams, Certified Personal Trainer
How to make your workouts count (or happen in the first place!). Specific tips for improving circulation and metabolism.
Week 4 – Monday,October 24th from 8:00pm-9:00pm
Mindfulness and Meditation- Getting Started with Dr. Marnie Luck, ND & Simon Esler, Mindfulness Meditation Guide
Bringing it home with getting rid of what you don't need- because that's what detox truly is. We're talking about all that buzzing in your head that takes you away from enjoying life. Explore ways to bring mindfulness and meditation into your daily life.
The webinars will be free for all current patients and everyone else interested.
To sign up, email: info@marnieluck.com